Our Work with Local Schools this Christmas
Christ Church – in the week before Christmas  90 Reception children  from Cavendish Road visited our church to discover it's history, explore the building and dress up in vestments.   We ended our time together by listening to the Christmas Story with the help of our knitted nativity.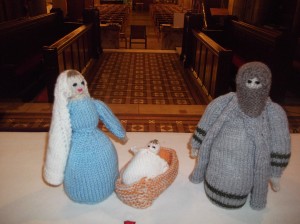 Children's Sunday Groups
Our children's groups meet most Sundays during services.
Sticky fingers at Christ Church and Bible Explorers at St Christopher's are for any children of primary school age upwards.
Messy Church
We work with St Paul's Withington and Withington Methodist to run Messy Church sessions several times a year.
For information see our Messy Church page.
Details of our next Messy Church session available soon.
Work with Schools
We have regular visits to our churches from groups of children from Cavendish Road, Barlow Hall and Old Moat Primary Schools. This year children from Cavendish Road visited Christ Church to learn about the War Memorial as part of their First World War project.  We've also helped children explore what happens in a church building, and the special Christian festivals of Christmas, Easter and Harvest.  Over the past weeks we have 'Experienced Easter' with around 200 children from Barlow Hall School and Old Moat School.  Many thanks to all involved in this.