Fresh Expressions at St. Christopher's
---
On the first Sunday of every month we meet at St Christopher's for a Fresh Expression of church. This is a creative Eucharistic service, celebrating the Anglican tradition and the arts.  We combine worshipping together, with time to reflect and enjoy God's presence individually. 
Format: Before COVID we met for breakfast but now we have a simplified socially distanced format. 
9.30am – 10.20am
We gather together to follow a simple service, saying sorry to God and hearing the Gospel reading for the day.
Inspired by the reading, we have 15 minutes to respond, using the resources in our worship pack. These include paper, pens, colouring sheets, artwork, poems and prayers. Music is played to help us to connect with God. We all encounter God in varied ways. We seek to vary our worship, catering for our different spiritual styles; word, emotion, symbol and action. 
We regather to share a fresh bread Eucharist. We operate an open table and all are welcome to receive communion. This is just the bread in COVID times.
We finish our service and depart immediately due to COVID. Previously we had fresh coffee/drinks, time and space is chat and continue any art work or writing we may have been doing in the service.
March 2021 Update: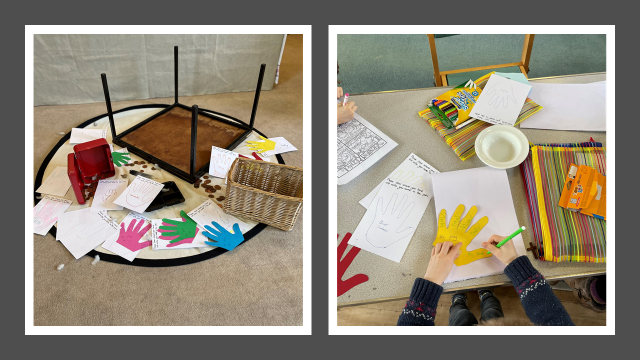 House of Prayer – Fresh Expression Update
"It is written, 'My house shall be called a house of prayer'; but you are making it a den of robbers." (Matthew 21:13)
The story of Jesus and the money changers in the Temple was the focus of our Lent worship on 7th March.  Protest disrupts business as usual, as God calls us to live differently.
Eyes opened wide as Tom upended a small table and coins rolled across the floor.  Ears filled with the noise of shouting traders, bleating sheep, bellowing cattle, doves' wings beating.  Then, as the Temple sounds subsided, music led us into a place of stillness.  Some used the time to draw hand shapes, writing prayers for ourselves and the world, while others prayed with images and words.  Together we explored what it might mean for us to be a house of prayer.
Our prayer offerings laid by the upturned table, we joined together at the Lord's Table.  Renewed and strengthened, we left seeking to "weep where Jesus weeps, speak out where Jesus speaks out, keep vigil where Jesus keeps vigil", and hoping for the rising of the Easter dawn.
Our parish Fresh Expression of church is open to seekers but also to the curious – to find out more, do join us at St Christopher's on the first Sunday of each month at 9.30 am.  All are welcome.
Next meeting Easter Day 4th April 9.30am
For more info please contact Revd Tom Studman – 0161 860 6003 or tom@christchurchdidsbury.org.uk