Fresh Expressions at St. Christopher's
---
On the first Sunday of every month we meet at St Christopher's for a Fresh Expression of church. This is a creative Eucharistic service, celebrating the Anglican tradition and the arts.  We combine worshipping together, with time to reflect and enjoy God's presence individually. More details about the format of the services below.
June 6th 2021 – What is happening?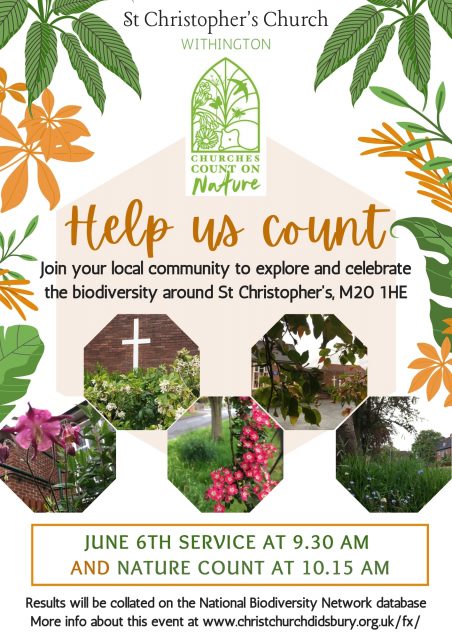 We have a special service celebrating creation and biodiversity on the first Sunday in June. We are joining with a national initiative called Churches Count on Nature. Join your local community as we explore, count and celebrate the biodiversity around St Christopher's. 
Churches Count on Nature is a joint initiative promoted by Caring for God's Acre, A Rocha UK, the Church of England and the Church in Wales. During a week in June, it brings local people together to discover the wildlife in their local church yard, recording the species they find, combining their results with others which will be collated on the National Biodiversity Network (NBN), a nationwide database of wildlife in the UK. For more info about the national project click here. 
Timing:
9.30am- You can come along for our all age friendly service with prayers, music, time to enjoy creation and time to be creative yourself. 
10.15am- Join us to start counting nature to contribute to the National Biodiversity Network database. Just bring yourselves and your keen eyes to explore nature. 
May 2021 Update:
This month we explored 1 John 4 and how God is love. As His children we can abide in God's love and grasp tightly to God who is our anchor, as strong as a mighty tree. He is the vine and we are the branches and we can abide in His love. This is a great comfort to us.
As part of our worship we read this beautiful thought written in the late 1800's by Gerhard Tersteegen.
God is a Being, loving, gentle, and tender. He is love. And he who dwells in love dwells in God, and God in him. Therefore, if you would walk with Him, be gentle and tender and full of love in all your works and ways. Let the spirit of the love of Jesus tame and sweeten the rough, oppositious, crabbed tempers of your natural mind, melt down your hardness, and bend your obstinate self-will; and should any of the bitterness of the old nature rise up, let yourself sink down at once into the deep sea of the gentleness and love of God.
Gerhard Tersteegen, in Sketches of tbe Quiet in the Land Frances Bevan, John F. Shaw and Co., 1891, p.400.


Using clay we allowed ourselves to be shaped by God's love melting down our hardness. The visual arts helped us to explore who God is and to encounter Him in our lives.
Next meeting June 6th 9.30am
For more info please contact Revd Tom Studman – 0161 860 6003 or tom@christchurchdidsbury.org.uk
Fresh Expression Service Format: Before COVID we met for breakfast but now we have a simplified socially distanced format. 
9.30am – 10.20am
We gather together to follow a simple service, saying sorry to God and hearing the Gospel reading for the day.
Inspired by the reading, we have 15 minutes to respond, using the resources in our worship pack. These include paper, pens, colouring sheets, artwork, poems and prayers. Music is played to help us to connect with God. We all encounter God in varied ways. We seek to vary our worship, catering for our different spiritual styles; word, emotion, symbol and action. 
We regather to share a fresh bread Eucharist. We operate an open table and all are welcome to receive communion. This is just the bread in COVID times.
We finish our service and depart immediately due to COVID. Previously we had fresh coffee/drinks, time and space is chat and continue any art work or writing we may have been doing in the service.