Fresh Expression Services at St Christopher's
On the first Sunday of every month we meet at St Christopher's for a Fresh Expression of church. This is a creative Eucharistic service, celebrating the Anglican tradition and the arts.  We combine worshiping together, with time to reflect and enjoy God's presence individually. More details about the format of the services below.
Oct 3rd 2021 – What is happening?
Due to our Parish Anniversary joint service in September our next Fresh Expression gathering is on October 3rd at 9.30am. More info soon. 
August Update- Jesus the Bread of Life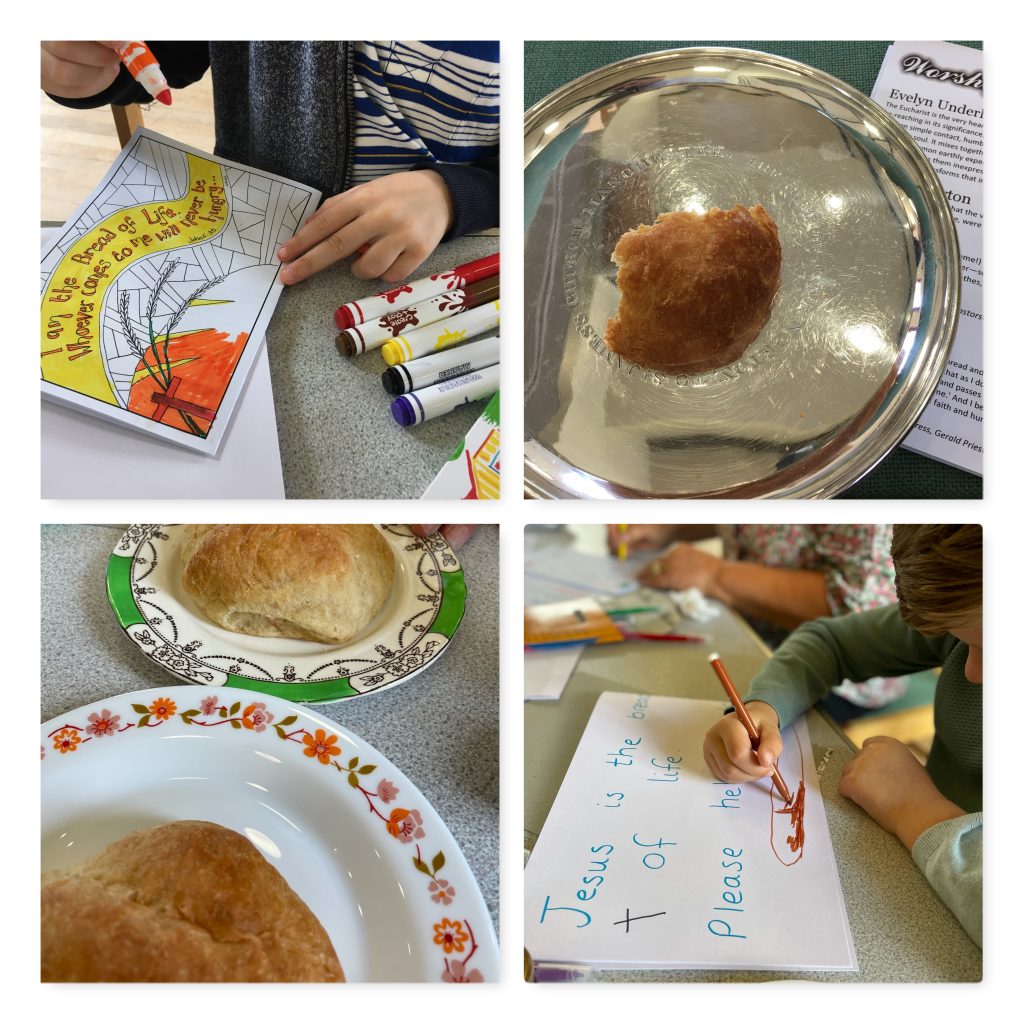 Back in August we gathered for our Fresh Expression Service on the first Sunday of the month. The lectionary led us to John's Gospel chapter 6, in which we read these words of Jesus, "'I am the bread of life. Whoever comes to me will never be hungry, and whoever believes in me will never be thirsty." Recently we have been sharing communion at our Fresh Expression services using fresh bread. Normally receiving a small piece of bread, this time I consecrated bread rolls and each person who came to the altar, received a whole roll. Returning to our seats we took 15 minutes to eat, think, create, and pray. An eclectic worship resource pack, ranging from Salvador Dali's 'Basket of Bread' painting, to quotes form theologians and a cook, helped us to focus on the symbolism of bread and the beauty of the Eucharist.
Afterwards we shared how the experience felt. One person noted how enjoyable it was to eat the bread slowly, savouring every mouthful. In this busy age it was good to slow down and ponder the symbolism, so central to our Christian faith. Jesus longs to satisfy our hunger and give us life. Jesus is the bread of life, and you are all welcome to come and savour the experience of encountering Jesus in all our parish services, including our next Fresh Expression in October.
Fresh Expression Service Format
Before COVID we met for breakfast but now we have a simplified socially distanced format. 
9.30am – 10.20am
We gather together to follow a simple service, saying sorry to God and hearing the Gospel reading for the day.
Inspired by the reading, we have 15 minutes to respond, using the resources in our worship pack. These include paper, pens, colouring sheets, artwork, poems and prayers. Music is played to help us to connect with God. We all encounter God in varied ways. We seek to vary our worship, catering for our different spiritual styles; word, emotion, symbol and action. 
We regather to share a fresh bread Eucharist. We operate an open table and all are welcome to receive communion. This is just the bread in COVID times.
We finish our service and depart immediately due to COVID. Previously we had fresh coffee/drinks, time and space is chat and continue any art work or writing we may have been doing in the service.