Fresh Expression Services at St Christopher's
On the first Sunday of every month we meet at St Christopher's for a Fresh Expression of church. This is a creative Eucharistic service, celebrating the Anglican tradition and the arts.  We combine worshiping together, with time to reflect and enjoy God's presence individually. More details about the format of the services below.
November 7th 2021 – What is happening?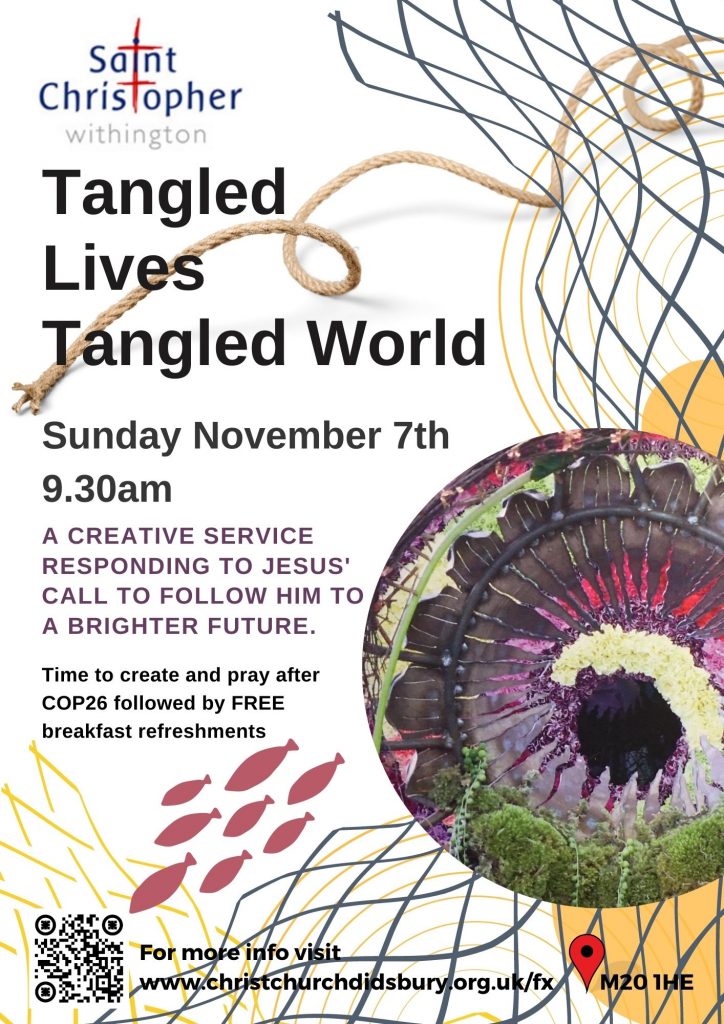 9.30am – a short creative service exploring the theme Tangled Lives Tangled World.
As we look at Mark 1,14-20, we will be thinking about Jesus meeting us in the midst of our tangled and complicated lives, and the wonder of following Him as we take up His call to Discipleship.
Time will be given in the service to reflect on our own lives and the world around us. After COP26 we will make time to pray for our tangled world and commit to acting to tackle our climate crisis. You will be invited to make a paracord woven key ring to take home to rememebr our time together and to keep praying.
10.15am: FREE breakfast refreshments served in a socially distanced way at tables. EVERYONE IS WELCOME.
St. Christopher's Church
13 Moorgate Avenue, Old Moat, Withington, Manchester M20 1HE
October Update- Come As You Are
On October 3rd we met at St. Christopher's for our Fresh Expression service. This monthly service is a great way to explore and grow in faith. We value the creative arts and like to explore words and pictures to help us meet with God. We read Mark 10:13-16 and were challenged to come to Jesus like little children. Jesus encourages us all to come with the vulnerability and simplicity of a child. However, life can easily become very tangled with a complex muddle of competing demands, health scares, COVID uncertainties, financial difficulties, and fractured relationships. Even the Christian faith can seem like a 'can of worms'. Sometimes I wish life were simpler.
At our service we considered a reflection by Patrick van der Vorst on christianart.net about a sculpture of a young girl by Brancusi. Made in 1928 the brass piece uses just a few lines to capture simplicity. He uses this to reflect on Jesus' call to have a simplicity of attitude towards Jesus. How do we let childlike characteristics of trust, joy, exploring, wonder and fun speak to us as God wants them to?
How can we as Christians aspire to simplicity? In the face of life's complexity, it is good to come to God humbly and honestly and depend on Him. Come just as you are however complex life may seem. God loves us and cares for us. As a child totally depends on their parent(s) we too must have total dependence on our Lord.
Fresh Expression Service Format
9.30am – 10.10 servicesfollwed by breakfast refreshments.
We gather together to follow a simple service, saying sorry to God and hearing the Gospel reading for the day.
Inspired by the reading, we have 15 minutes to respond, using the resources in our worship pack. These include paper, pens, colouring sheets, artwork, poems and prayers. Music is played to help us to connect with God. We all encounter God in varied ways. We seek to vary our worship, catering for our different spiritual styles; word, emotion, symbol and action. 
We regather to share a fresh bread Eucharist. We operate an open table and all are welcome to receive communion. This is just the bread in COVID times.
We finish our service enjoy a simpel socailyl distanced breakfast with fresh croissants coffee/drinks. Time and space is chat and continue any art work or writing we may have been doing in the service.